Flatpack Design
My interest in flatpack design initially stemmed from my use of cardboard in my sculptural practice. Slotting and wedging segments of cardboard together became an efficient way for me to build a series of furniture-like structures. Featured in the images below are some of these earlier experiments.

As my practice developed contextually and visually I wanted to start building with stronger, more structured materials. to continue using the flat packing design method, for more rigid materials such as MDF, the plans for each structure became more meticulous. Slots and joins needed to be more accurate to ensure stability and balance in each piece.
Hannah Lim
September 2020
'ultimate samurai sword':
slotted flatpack cardboard structure, 2018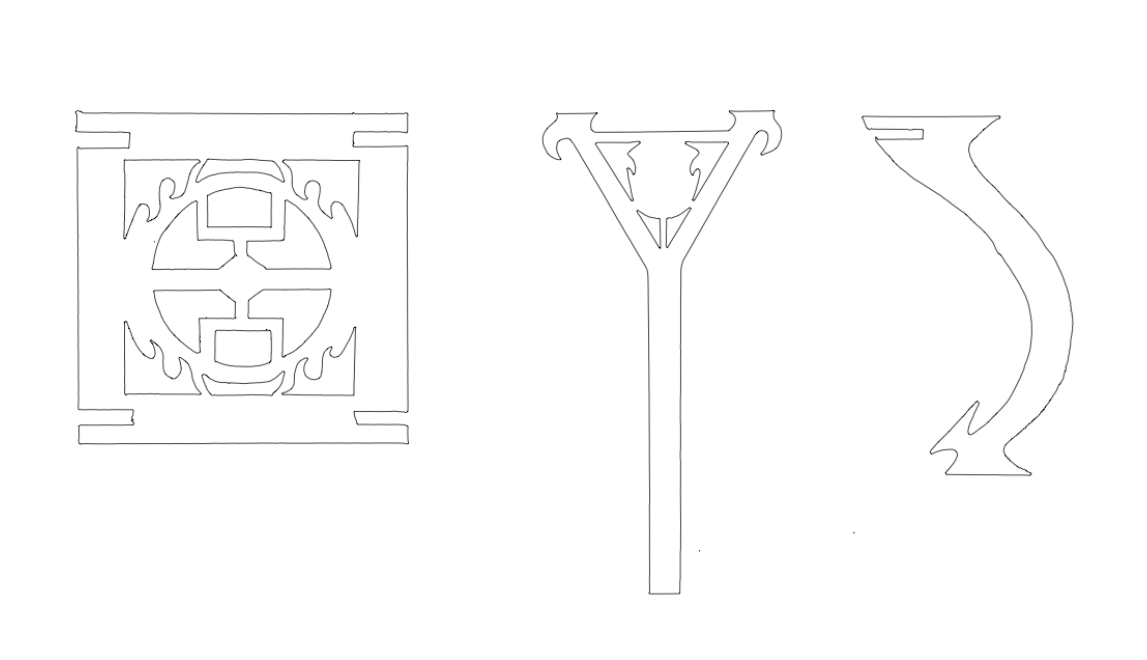 I now work primarily in MDF and acrylic when making these furniture objects. Each object starts out as a series of hand drawn plans, these designs are then scanned and converted into digital line drawings in Illustrator. The digitalised line drawings are then finally edited in the laser cutting programme ethos where I am able to choose which segments of my design are cut or engraved.
Cardboard Flatpack lantern, 2019
FLATPACK TABLE AND CHAIRS: BASED OFF OF THE DRAWING PLANS ABOVE, MDF, 2020
The contrast between the efficient flatpack structure of these objects and their often ornate, decorative design helps to further reflect the juxtaposition of cultural styles and motifs that also visually define these objects.
Contextually and visually my work has a strong connection to the Chinoiserie. The Chinoiserie; an aesthetic trend particularly prominent in the 18th Century, was characterised by the European interpretation and imitation of Chinese artistic traditions and methods. Stylistically the chinoiserie is sometimes related to the Rococo; often quite extravagant, with a depth of decorative detailing.
Combining these elaborate design techniques with efficient and functional flat packing structures means these objects often sit somewhere between being useable and ornamental. The functionality of Chinoiserie objects were sometimes lost in the process of imitation: cabinets, vases, chairs.... created in this style were valued for their cultural aesthetic as opposed to their functional design
L: In praise of shadows: lantern screen, mdf, 2020
R: Lantern on a lake, acrylic, mdf, 2020
The impermanent and adaptable nature of the flatpack designs of these pieces allows for them to be continually changed and updated, they aren't fixed, each flatpack object can be rearranged, packed small, enlarged, hung, strung and displayed in all different ways. The evolution of these objects, alongside changes in my practice is linked to my own understanding of self, particularly in relation to my own cultural identity.
My work has a strong visual and contextual connection to my mixed cultural heritage. I use my practice as a means to further examine, explore and unpack my own understanding of cultural identity, which is constantly changing and developing. In this way I like that these objects, created in response, are able to evolve alongside these personal changes. the unstable, pieced together quality of each furniture item reflects my own feelings of displacement, unsure of where I situate myself between two cultures.
L: HUNG AND STRUNG, SAME TABLE DISPLAYED VERTICALLY ON A FRAME WITH A LANTERN, 2020