Museum of Half Truths at 1a Space
---
Events
---
Contributors
︎︎︎

We were selected as the

Emerging Talents in Contemporary Art

by

1a Space, Hong Kong. The show and public programme was live on August 2020.
Information / 1a Space

Museums and libraries are the repositories of history but they remain flawed and biased in their representation. How can we disrupt the pre existing structures which surround us? How can we represent fairly our many co-existing and conflicting memories and histories?

The Museum of Half Truths will aim to answer these questions by exploiting the conventions of these institutions to present a playful take on a museum that is transparent about its subjectivity.
Our compulsion to collect, archive and document history is inherently human. These artists draw from personal and historical archives and cultural tropes to investigate the relationship between fact, fiction and memory.
The artists featured question our recording of cultural memory; investigate rituals and traditions; the whitewashing of popular culture; and memorialise and advocate for underrepresented communities.
博物館和圖書館是歷史的儲存庫,但它們對於歷史的陳述仍然存在瑕疵與偏見。我們如何瓦解包圍於我們身邊的固有機構與框架?我們如何能公平地呈現我們的集體回憶和歷史?
Museum of Half Truths
致力利用這些機構的慣例去回應以上的提問,並以嬉戲的態度透視博物館的主觀臆斷。
人類天性地就有收集、保存和記錄歷史的慾望。是次參展的藝術家們會從自身、歷史文獻及文化象徵出發,探索事實、虛構與回憶之間的關係。
info@museumofhalftruths.co.uk
︎
The screen on the left consists of still images extracted from eleven Hollywood movies and American TV series produced from the late 1930s to the late 1980s, in which they centered around the portrayals of characters with Chinese descent, also including stories being filmed in Hong Kong. I use a mobile application that has synthetic media technology to convert the characters from the still images and rewrite their lines.
The body is re-enacting what has been created on the screen at the left, and they is not altering the characters on the other screen as it might appear to be from the setting.
︎


The screen on the right is a character which I perform, named as the "Pre-CGI body". The body which has dressed in a tight suit with a lot of motion tracking data points attached is widely seen in the pre-productions of commercials and movies where their actions and performances are used as a "material" for post-production to generate computer graphics or 3D animations on top of them. In spite of that, this "Pre-CGI body" I perform in the video is attached with fake tracking data points which do not function as it might suggest.
This video was filmed after the one on the left was made."
www.wai-lau.com
Moses Tan presents works from his recent series, Memorial for Boogie Street (2018). Incorporating drawing, sculpture, audio and virtual reality, Tan's suite of works in By All Estimates seek to re-articulate often forgotten, repressed and censored queer histories of Singapore, especially of the communities and activities that centred around Bugis Street from the 1950s to the mid-1980s when the downtown area begun its transformation from a well-known (and well-frequented) site for cruising and transgender sex workers and their clients to what is today a haven for tourists with malls, markets and cultural institutions.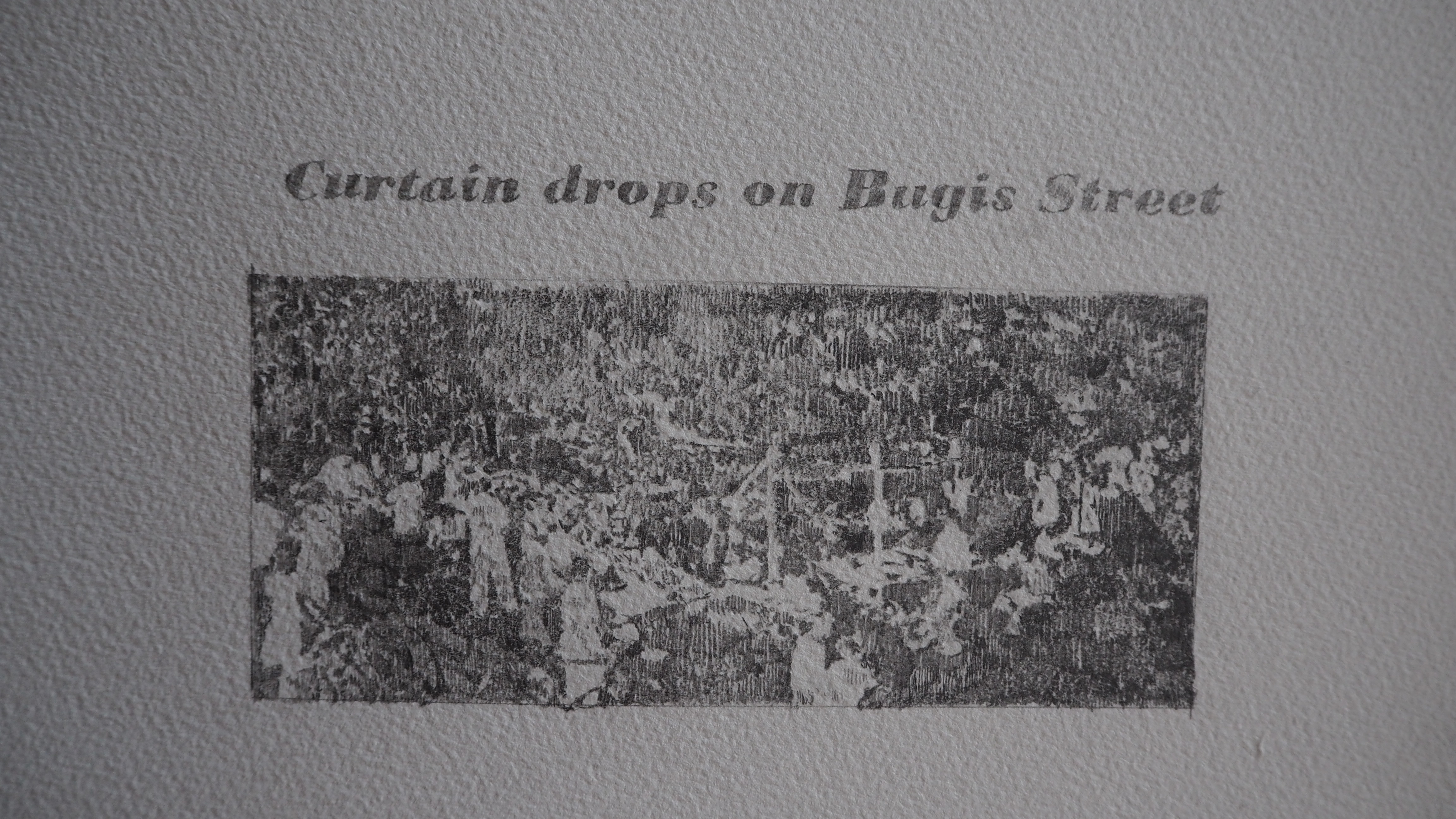 穿越虛空之地
2020
120 x 77 x 60厘米
絕緣泡沫塑膠、影片、顯示屏、媒體播放器
Traversing Hollow Ground
2020
120 x 77 x 60cm
Insulation foam, video, video monitor, media player